With its welcoming atmosphere, down-to-earth charm, and well-honed comfort foods, Tetonia's Badger Creek Cafe feels like a decades-old community staple. You'd never know that the cafe is just four years old, a testament to the labor of owners Elyse Archer and John Flyg, who have worked tirelessly to make Badger Creek a pillar of Teton Valley.
Elyse and John moved to Tetonia from New York City in 2013. Their extensive culinary experience, including work in Michelin star-rated restaurants, secured them jobs at eateries in Tetonia, Victor and Jackson. But after several years in the community, the pair decided to take a risk and open their own restaurant. 
The result? "It went better than we ever could have expected," enthuses Elyse.
The cafe was an immediate hit, winning over locals and tourists alike. And the source of the success was simple. "Good food is the most important part," Elyse says. "We opened because we wanted to make affordable and delicious food."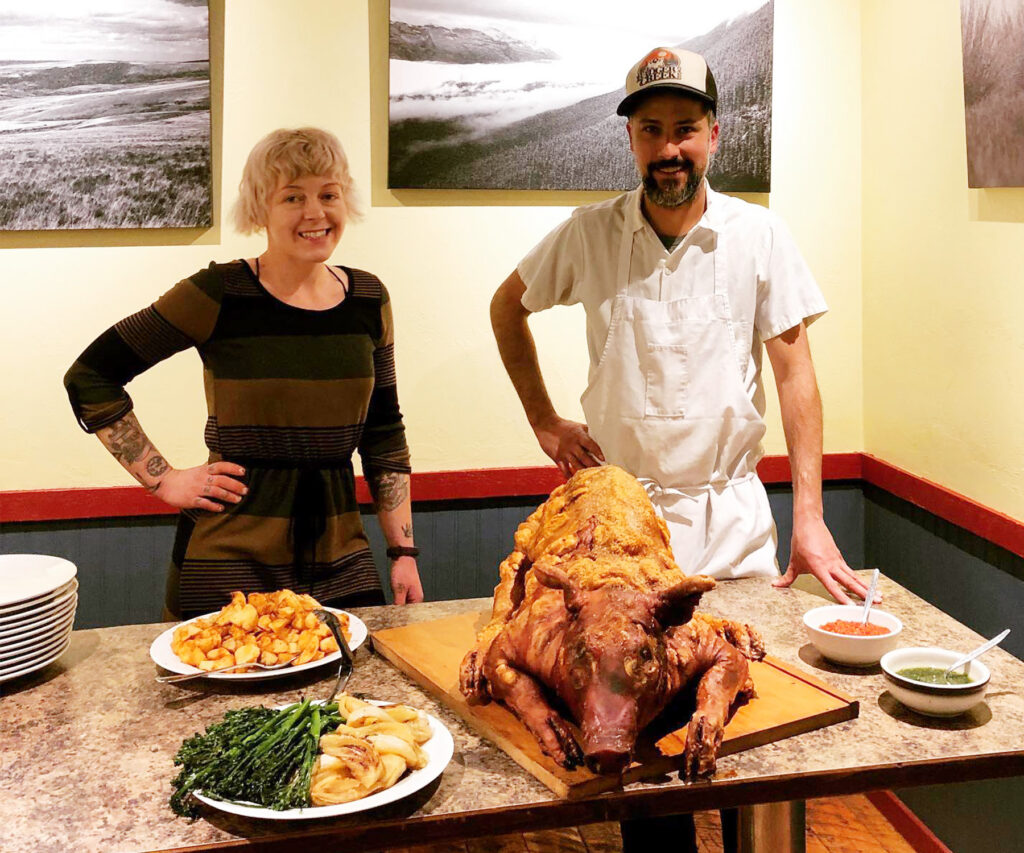 The menu is a mix of time-honored classics — chicken and waffles, biscuits and gravy, corned beef hash — and inventive variety, such as the delectable fried chickpea fritters. John, who handles most of the cooking, prides himself on making things in-house and using as many locally-sourced ingredients as possible.
The personal touches show every time you sit down for a meal in the cafe. The Reuben — perhaps the very best in Teton Valley — comes with a pile of house corned beef, a handful of sauerkraut, Swiss cheese, and a generous slathering of Thousand Island dressing. The Badger Burrito, meanwhile, has a delicious mixture of scrambled eggs, potatoes, peppers, onions, and cheese, with an option for scrumptious green chile pork. And no matter what you order, attentive and courteous service is a guarantee.
Residents of Teton Valley have taken notice of what Elyse and John have achieved. Badger Creek has been voted the best breakfast in the valley for three years running, and the cafe enjoys a bevy of regulars, some of whom eat there upwards of three times a week.
The restaurant has also charmed valley visitors. Elyse and John admit that the cafe's unassuming appearance in a small town of under 300 can make it easy for people to miss. But those who do stop at Badger Creek frequently leave saying it is among the very best food the area has to offer.
"People often say they don't expect much walking in here," explains John. "They don't expect it to look the way it does on the inside, let alone do they expect the food on the table."
Like many restaurant owners, Elyse and John did have to adapt their business in 2020 as a result of the coronavirus pandemic. Dine-in eating was temporarily suspended and hours of operation had to be adjusted. But with creative take-and-bake offerings as well as traditional takeout service, Badger Creek was able to stay open and connected to the community. Dine-in service has since resumed and the cafe is as vibrant as ever.
Life in the valley has allowed Elyse and John time to pursue other passions as well. John, a native of Pocatello, is an outdoorsman at heart, enjoying a wide variety of activities including fishing, hunting, snowmobiling, golfing and horseback riding. Elyse, meanwhile, discovered her love for roller derby after moving to the area, joining a team in the Jackson area.
But, for the owners, Badger Creek is their primary passion. "I love Tetonia, Tetonia is home," says Elyse. "And being able to walk in, Dolly Parton is playing, drink some coffee — we just want it to be a rad, cool place."

Badger Creek Cafe is located at 110 North Main Street in Tetonia, ID. It is open Thursday-Monday, 8 a.m. to 3 p.m.