The Teton Valley has become a premier vacation destination thanks in large part to its unbeatable location. In under two hours, you can reach some of the country's greatest cities, resorts, forests, and national parks. But few areas hold the same allure as Yellowstone National Park, the United States' first and most iconic national park.
The West Yellowstone park entrance is located just 94 miles from Driggs, or a 1-hour, 40-minute drive. But, with more than 2.2-million acres and a long list of must-see geysers, wildlife, and history, planning a trip to the park can be overwhelming. That's where organizations like See Yellowstone step in.
Formed in 1970, See Yellowstone has helped make Yellowstone a year-round attraction with a wide variety of summer and winter tours, and vacation packages. The organization takes almost all the guesswork out of planning a trip, offering a comprehensive list of resources — gear recommendations, weather reports, park maps, etc. — so that guests can simply enjoy the experience.
But the exciting, engaging park tours are See Yellowstone's bread-and-butter.
In the summertime, spacious vans take guests on tours of either Upper Yellowstone, including Mammoth Hot Springs and Norris Geyser Basin, or the Lower Yellowstone Loop, which features the Old Faithful geyser and the beautiful Fountain Paint Pots.
See Yellowstone pioneered winter tours of the park, and it offers a number of ways to explore the area during the snow-covered months. The group offers two different snowmobile tours — one takes guests around Old Faithful, the Lower Geyser Basin, and Firehole Canyon, while the other allows visitors to witness the wintertime majesty of the Grand Canyon of Yellowstone. And have no fear if you've never operated a snowmobile before — lessons are included.
But it is See Yellowstone's snowcoach tours that have made it famous. While the group now has several modern coaches, See Yellowstone still operates a number of vintage bombardiers that allow visitors to see the park's major sights in style, as well as comfort. Escorted by seasoned, knowledgeable guides, guests often rave that this is the best way to experience the park.
What's more, coach riders are invited to bring along cross-country skis or snowshoes to experience the park on the ground during breaks. Just don't be surprised if you happen to come across bison or moose on your journey.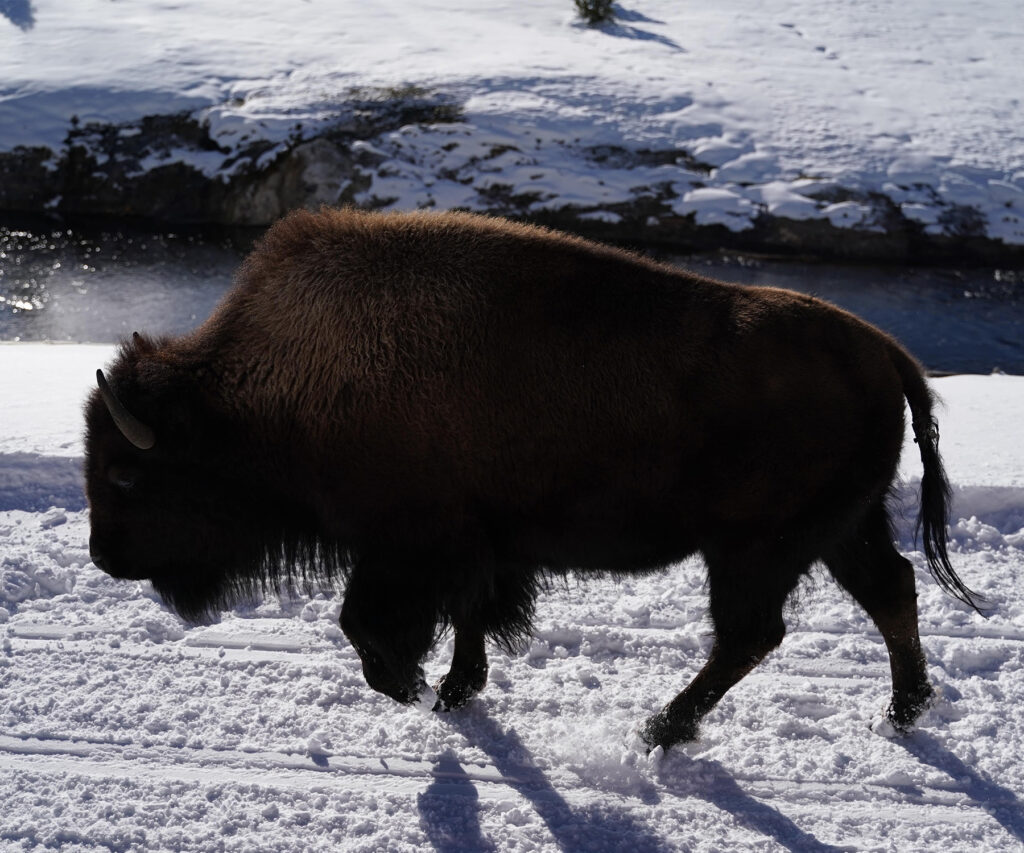 No matter which package one chooses, Yellowstone National Park is a true must-see destination. With its diverse wildlife, including wolves and bears, and natural beauties, such as geysers, lakes, canyons, and mountains, it is a one-of-a-kind place. And being able to rely on the amenities, knowledge, and experience of tour organizations like See Yellowstone only adds to the experience of visiting the park.
Visit SeeYellowstone.com to make reservations or for more information. You can also call 800-221-1151 or email [email protected].